Taste Santa Barbara Food Tours Downtown Taco Tour was mentioned in Journalist Sandra Thomas' article about her quick trip to Santa Barbara!
An article mention makes us famous right? Almost famous?
Earlier in 2023, we had the pleasure of hosting a Fun and Fabulous Canadian journalist. Sandra Thomas and some friends, along with some friends from Visit SB joined us for an afternoon filled with walking, talking, drinks and of course tacos on our Downtown Santa Barbara Taco Tour. Sandra wrote an article about her California jaunt, the things she did and saw and mentioned our tour!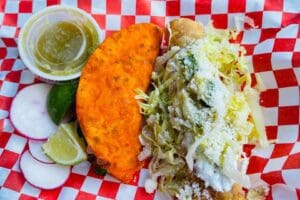 Read Sandra Thomas' article that mentions Taste Santa Barbara's DT Taco Tour here!
A few local friends, who moved to Santa Barbara during Covid also joined us for the mid week taco tour. The taco tour is on the newer side. We have been playing with the starting time and tasting locations. There are so many fantastic and unique taco places in downtown Santa Barbara, we want to include all of them. We try and change things up and play with everything to keep our tours consistent and spicy, like in a good way.
The taco tour includes more alcohol options then our Downtown Food Tour.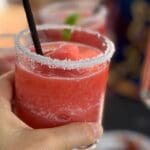 The downtown tour does have an alcohol and non alcohol option, which usually includes a wine tasting and another alcohol drink, which is usually beer or wine. The taco tour includes 2-3 different types of margaritas. Some with tequila and others with soju tequila. There is always the option of a refreshing cerveza instead.
On this particular day, we had strawberry margs with salt and crispy potato tacos. A queso birria taco and a potato taquito and a drink (I had a bubbly water). 2 Street tacos (I opted for a potato taco and a corn one) and of course the pineapple salsa. We ended the tour with fancy fish tacos from Corazon at the SB Public Market. We were going to head to have churros for dessert at Rudy's –