Walking Food Tours Are Fun!
EAT, DRINK, WALK LOCAL SANTA BARBARA
A Fun and Delicious Way to Explore Downtown Santa Barbara, CA
If you are looking for a fun food adventure in Santa Barbara, look no further. Hop on over and join one of our walking food and drink tours! Get ready for a lip-smacking journey filled with scrumptious local bites and sips, plus an excuse to walk and take in some sites. This foodie experience will leave your mind and body happy.
Join us today!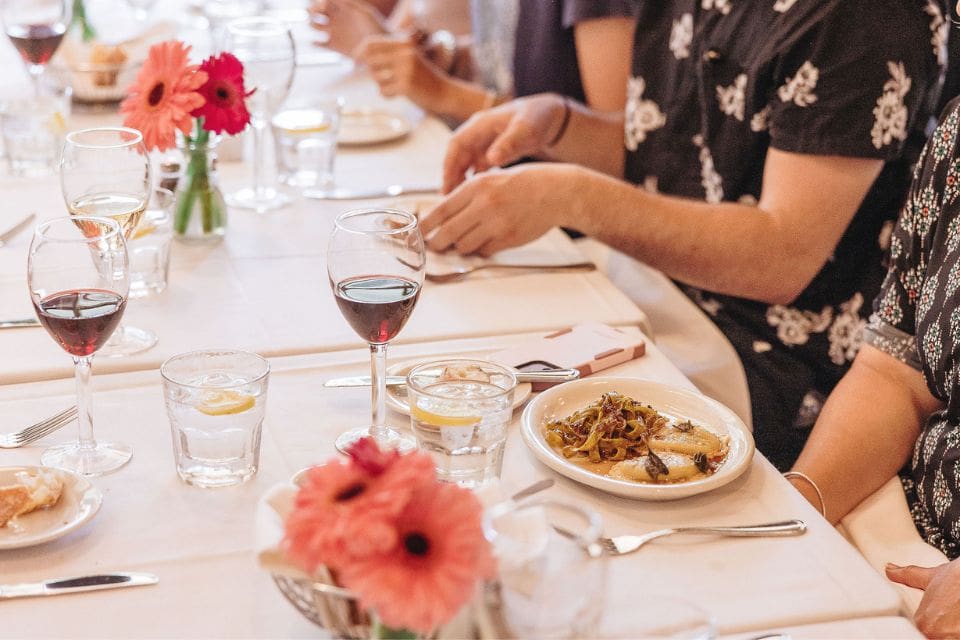 The Original Downtown Santa Barbara Food Tour
Enjoy a local, delicious, and fun daytime walking food and drink tour through fabulous Downtown Santa Barbara.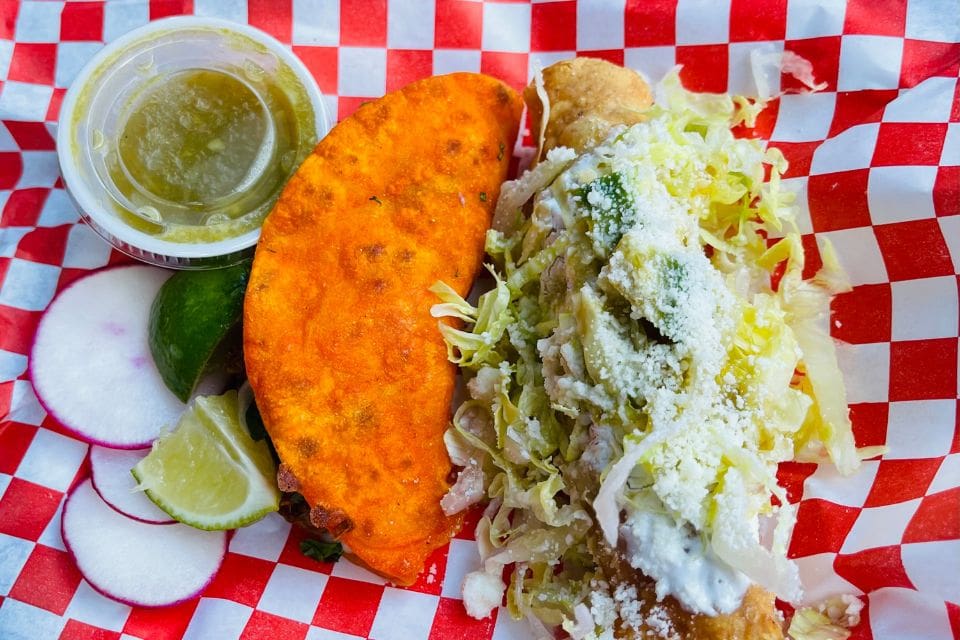 Downtown Santa Barbara Taco Tour
Taste SBFT's specially curated Downtown Taco Trail. Guests enjoy a variety of tacos, a taquito, drinks, fun and more! 3.5 ish hours all on foot.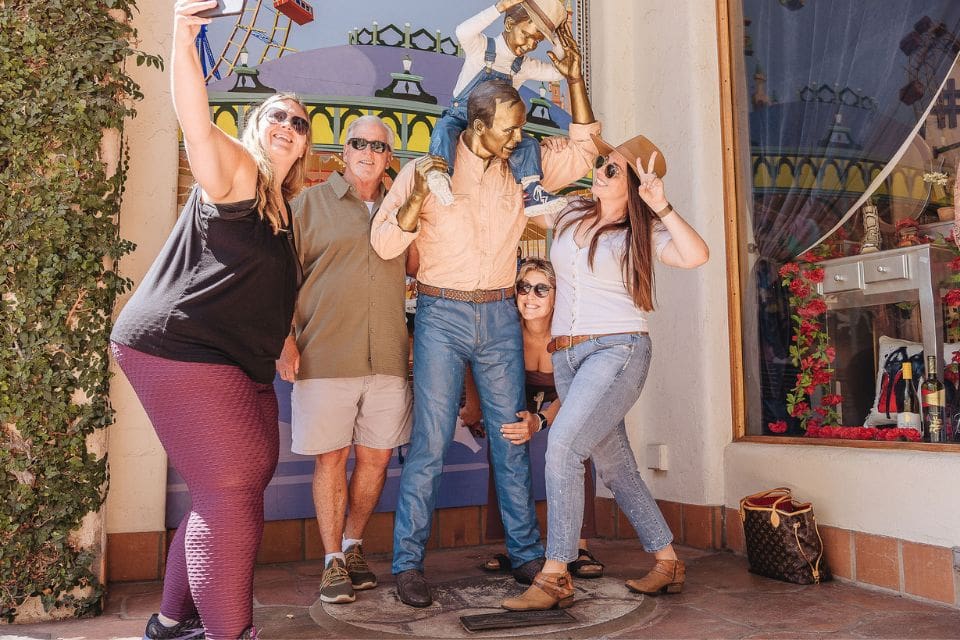 The Private Tour Experience
Ready for a tasty adventure? Join us for one of our walking food and drink tours in downtown Santa Barbara! Our local guide(s) will lead you and your personal group through the city, stopping at delicious spots along the way. Get your steps in while satisfying your cravings – what better way to explore the city? Don't miss out on this fun-filled daytime excursion!
Click Buy Out Tour if you have a group of 12 or less. For groups with over 12 people, click Request Private Tour.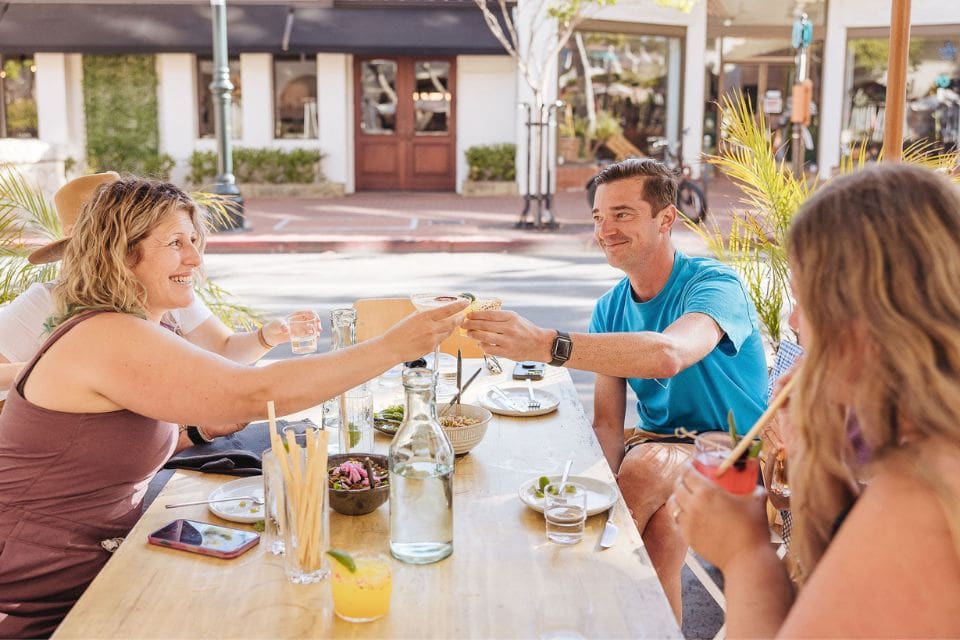 Corporate Tours
Nothing bonds a team quite like exploring new food and drink together! Ditch the typical happy hours and luncheons for an experience your team will never forget. Our walking food tours offer something different – lots of movement, delicious tasting samples from local restaurants on our route (including wine if you want it!), and plenty of fun facts about Santa Barbara.

Let's Eat
Navigating any city's local food scene can be tricky, but worry not, we've got you covered. Join us and all you have to worry about is savoring every bite. Trust us, your taste buds will thank you.
Cuisine for Most
Whether you're a meat lover or a vegetarian, we love to indulge your taste buds with our local food. We can accommodate a lot of food preferences if we know about them in advance.
Walk Around Town
Walk, eat, drink, learn. If you have trouble walking or health issues, we recommend exploring our private tour options.
Cool Places to See
Walking from one place to the next offers an exciting opportunity to witness Santa Barbara in a different way. Experience the city from a different and unique perspective. Get ready to broaden your knowledge and immerse yourself in the fascinating world of Santa Barbara like never before.
Reviews
Tour Guest Reviews
Cristina Mercader
2023-06-20
Our tour guide Nancy was THE BEST! We had such a great time on the Taco and Drink Tour and it included visiting some of the historic sites in Santa Barbara. The food selection was delicious (COME HUNGRY TO THIS TOUR) and Nancy was so much fun and so gracious. We had my elderly mother with us so Nancy made sure to pace things out slowly and take breaks throughout the tour. 100% recommend but be warned to wear comfortable shoes and come hungry.
My family had the best time on this tour. Nancy was a great guide!
We had a wonderful experience with Linda. The food and beverages were yummy. It helped make my husband's birthday so special. We strongly recommend doing this.
Courtney Taylor
2023-05-23
Such a well-planned and thoughtful tour! They started us at a wonderful winery with a wine tasting and a delicious charcuterie. The street tacos were next and it was really a taste of Mexico. Delicious! The third place was an Asian fusion and we tried some great dishes in a really unique setting. We finished at an Italian restaurant that had the best ravioli ever. Throughout, Nancy and Karen were great guides sharing insights into the different parts of downtown as we walked from place to place. They were patient with our pace and we never felt rushed - they felt like part of our tour group. They were smart and informative. I highly recommend this tour to anyone who enjoys eating and drinking sprinkled with a little bit of learning. Thank you Nancy and Karen! ❤️. Courtney and Jolie
Nancy was a wonderful guide. She knew the city well and proudly showed us many hidden treasures. Santa Barbara is a beautiful city and offers many culinary options. We had Turkish, Tacos, Asian-Carribean infusion, and Old World Italian. Nancy also took into account the fact that my husband had a recent knee replacement and had some mobility issues. Thank you Nancy.
My family and I had a wonderful time. Our guide, Nancy, was very knowledgeable and hospitable. I really enjoyed having to taste delicious local foods while entertained with Santa Barbara's rich history.
Molly Marzonie
2023-04-20
We absolutely loved our food, drink & history private tour with Santa Barbara Food Tours. We had a corporate outing with folks that had never been to SB, and it was a great way to see the city and learn more about it. Evan was easy to work with in setting up the tour, and Nancy did a great job as our tour guide! Thank you for a memorable team-building experience!
Krista Reinhard
2023-04-13
Had a great afternoon eating, drinking, and learning about Santa Barbara. Thanks Maddy for showing us around and answering all our questions!!
Taste Santa Barbara
Get ready to feast on Santa Barbara deliciousness like true locals!