Santa Barbara Tours. So many, where do I begin?
Santa Barbara Tours – we offer a large variety of tours. From food tours to wine tours, history tours, boat tours, adventure tours, bike tours, kayaking tours, docent tours, ghost tours, trolly tours, bus tours, segway tours, so many tours. I am sure there are a lot of tours I don't even know about. Why is that? Who knows, but my guess is that we as people are looking for experiences to have with ourselves and our families and friends.
When I started Taste Santa Barbara Food Tours, like 10 years ago, tours were a thing, but not like they are now. Many more people are interested in the tour route. Tours have always been very big in Europe and oversees and I am so glad they are starting to catch on in SB. Because I love a good tour.
Santa Barbara IS a small town with a plethora of things to do, especially a variety of different types of tours.
It might be hard to decide. I included some of my favorite tours in town. There are many more, so this is just the beginning. Stay tuned for more on the tour topic.
I would be a fool to not suggest taking a Taste Santa Barbara Tour. If you are visiting or live in Santa Barbara and enjoy food, fun history and a little walking, you should totally take one or all of our food tours.
One of the beautiful thing about our tours is that they are similar, but not always exactly the same.
For many years we tried to keep the tours exactly the same. As the tour grew and our tasting partners and guide base grew, the tour began to shift slightly.  Our tours are repeatable experiences BUT we do change them up depending on the day of the week and the food partners. We also offer history tours, mini food tours, private food experiences and walking wine tours. If you are interested in something that isn't yet listed on the site, just shoot us a message and we can make magic happen.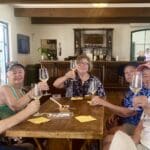 We love taking history tours created by our friend John with Walking Tours Santa Barbara. He was inspired to create a tour company after a trip to Europe!
If you are looking for a wine tour, SB has a lot to offer.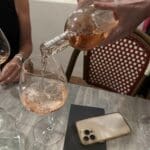 And if you started searching for a wine tour, you may be a little overwhelmed. We have taken a handful of wine tours and have really enjoyed all the wine tours we have taken with Sustainable Wine Tours.
Do you like adventure with your wine?
Maybe you are more into earning your wine calories, then definitely join a bike then wine tour with iBike. You do not bike from winery to winery, you bike then wine. Much safer that way.
Check out SB Adventure Company, They offer a plethora of great tours and activities.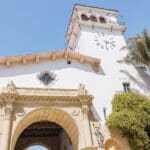 If you would like more of an inside and thorough tour of the famous SB Courthouse. They offer a couple of docent led tour options that can be found here.
Thank you for reading and don't forget to book your food tour first and then we can help you book some other fun tours too!
P.S. Sorry for the not great pictures, still learning to make the pics we take on our phones work on the blog.