Santa Barbara wine tasting: so much wine, so little time
Wine tasting is relatively newer to Santa Barbara County compared to some other regions in the world. I did a little research and it looks like the first 13 Santa Barbara County wineries didn't pop up until the 1980's. HOWEVER, in 1962 (I think) Santa Barbara got their very first wine tasting room –  Santa Barbara Winery.  According to my research, they were the only winery in downtown SB for 40 years
In the early 2000's, I remember Santa Barbara had a handful of wine tasting rooms in. The wine tastings in Santa Barbara were free  (they are still free in Parhump. NV but that is a whole different story). Back then, if you purchased a bottle or the staff liked you, you might even be able to take a wine glass home with you.
Fast forward to present day, there are something like 283 vineyards in the SBC area, maybe more. I just read some cool info about the wine history, you can check it out here if you are interested. Clearly the wine tasting scene in downtown SB has changed significantly since1962
           Drum roll please…
Below are Evan's top four wine tasting spots in downtown Santa Barbara
I remember the first time I visited Grassini's charming and tiny tasting room in El Paseo. It was located across from the outdoor seating area of the Wine Cask. My friend Shelley who was working at the Biltmore took me there to meet her friends and try the wine. I quickly fell in love with them. A few months after my first taste of Grassini wine, the former manager and I decided it was time to start brining the tour groups in to taste on the tours. They eventually outgrew the tiny space and moved a few doors down to a larger space with two patios. For nine years now, Grassini continues to be one of my favorite wineries. I love sauv blancs and cabs and guess what they specialize in? You guessed it. They also have awesome red blends.
Frequency Wines small batch local wines, mostly blends and oh so good. The second or third time I tried the wines, I became a wine member. They have one of the easiest and least intimidating wine clubs in all the land. They also have one of the best outdoor courtyards to sit and enjoy wine on and they are super kid friendly.
Margerum Wine – I loved when their wine tasting location was in El Paseo, but as the wine grew in popularity, the tasting room had to move to a larger location to accommodate it. BUT, I still do get to the funk zone to hang out in the welcoming tasting room, also with an outdoor patio and the rose flows. So many of their wines are amazing, but you can't go wrong with a screw top of beautiful and easy to drink (sometimes too easy). Luckily they also serve food so it can be a one stop shop.
Carr Winery located a little off the beaten path of downtown Santa Barbara has been around since at least 2007. I remember, I was living in Austin, TX at the time and would come home to visit my mom and stepdad. We would visit Carr for some wine and sometimes get a band playing. The large warehouse tasting room is spacious and lovely and they added a very pleasent outside patio/courtyard. They even added a bathroom that you ca access from the courtyard – I love a clean and accessible bathroom. I don't think I've met a Carr wine I didn't liked. Check out all their wines especially any of Cab Franc, you won't be disappointed.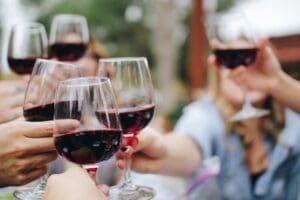 If you made it this far, thank you for following along and hope you will join us again soon. Don't forget to book your private food and wine tour experience today!